Hi everyone!
I decided to start documenting my journey of creating a website/blog.
Since my platform is all about sharing experiences, it's obvious that I should do the same. I'll be as transparent as possible. Hopefully, it can help anyone out there looking to begin their journey of starting something.
It's my belief that you never really solidify what you've learnt until you share it with others.
Through this series, I'm also discovering new things about Rarefyi and any lessons that I may have missed. As of writing this, it's been roughly 3 months since my official launch.
I noticed many people don't readily share their experiences so to heck with it, I'm sharing. Maybe I'll even inspire more of you to share your experiences.
Disclaimer: I am no expert. But you'll learn and grow together with me on this journey!
I will provide regular updates so be sure to follow and support Rarefyi on social media!
You may ask, "How to start a blog or website?", and hopefully this series will show you how!
This is part 1 of sharing my experiences starting a website/blog, enjoy!
Background
You see, I've always been interested in writing, entrepreneurship, finance, and marketing.
At a young age, I didn't even know what the word "entrepreneurship" or "business" meant. I simply enjoyed selling and trading those Pokémon and Yu-Gi-Oh! Cards I had.
Later, it evolved to me selling my hard-earned in-game currency in MapleStory I got by reselling items with high demand. Funny enough, those things taught me the basics of negotiation, understanding value, and demand & supply.
Fast forward to 2019, I started my first "legit" business. I co-founded a platform called "MarketOrigins", born to aid designers in selling their apparel. Although the business made more than $10,000 in revenue, it lacked scalability. I blundered by focusing on the solution before the problem, and MarketOrigins folded. (Maybe I'll share my experience on it someday)
Afterwards, I had another idea, tested it through a pilot program, but it also didn't really work out. However, I did gain much knowledge and business know-how.
Now, I'm working on Rarefyi, which is much more of a passion project than a start-up.
Let me bring you behind-the-scenes and show you how it all started, the progress I made, and growth for the future.
Pre-launch Phase (Month 1): Experiences Starting Blog
Coming Up With The Idea
How did I come up with my idea of a platform?
Image: Some of the notes I jotted down
I thought of the idea during my National Service (NS), when I was serving the Singapore Army. I enlisted in the army in September 2019. The first 2-3 months during my Basic Military Training (BMT) phase, we recruits barely had any admin/free time. I could only expand into my idea and write it down in my notes.
It started with a simple thought – a movement to get more people to share about their experiences. This in turn will help many people. I've seen many people hoard their knowledge and I feel it's wasted when they don't share it with others.
I started Rarefyi with a mindset of not making profits but as a hobby. And hence, I embarked on my passion project journey. I wanted to build something that I can be proud of.
This is not a revolutionary tech start-up idea. It's something that I like and want to do, so I'm going to do it.
And so, my journey begins in January 2021, where I was no longer a recruit and had more time to work on Rarefyi. (After BMT, I was lucky enough to be posted into a chill vocation)
Consolidating My Ideas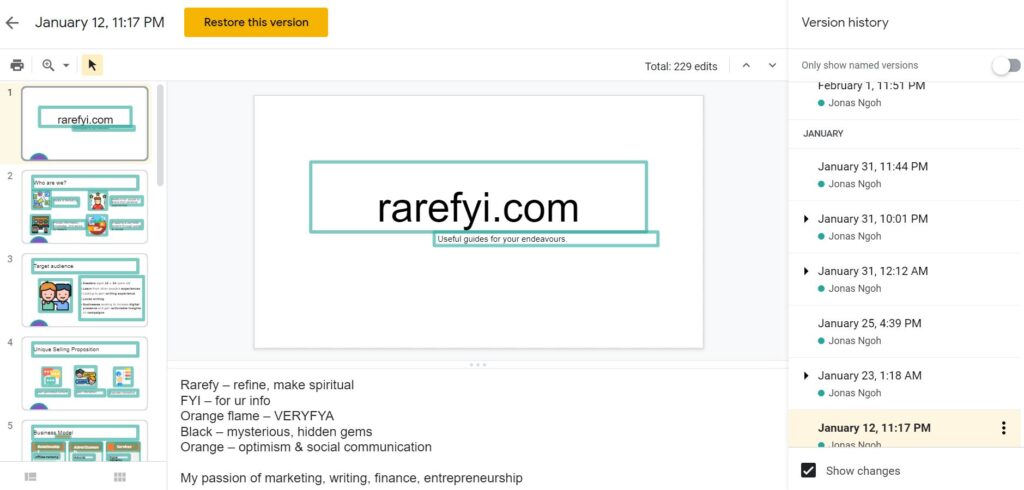 Firstly, I converted my ideas and points into an actionable pitch deck.
You never realise what you've really done until you look back into what you've documented.
For a simple deck like this, I was surprised by the number of revisions I made, from January till now.
The bulk of my pitch deck was finished within weeks, while I spent the rest of my time touching up and refining.
These are what I included in my deck:
This was a short-term timeline I did for my Minimum Viable Product (MVP). It's basically the essentials I need to get my website up and running.
At the start, I prioritised these niche topics:
As for the launch… I overestimated how fast I could do it. I failed to account for myself facing more problems. Honestly, I did not know that there was so much left to do and my launch was delayed for a few months.
My tagline used to be "Useful Guides/Collective Experiences For Your Endeavours". Months later, I thought of "Real Experiences From Real People", which captured the essence of my idea more clearly.
Doesn't it sound better?
The DREADED Domain Name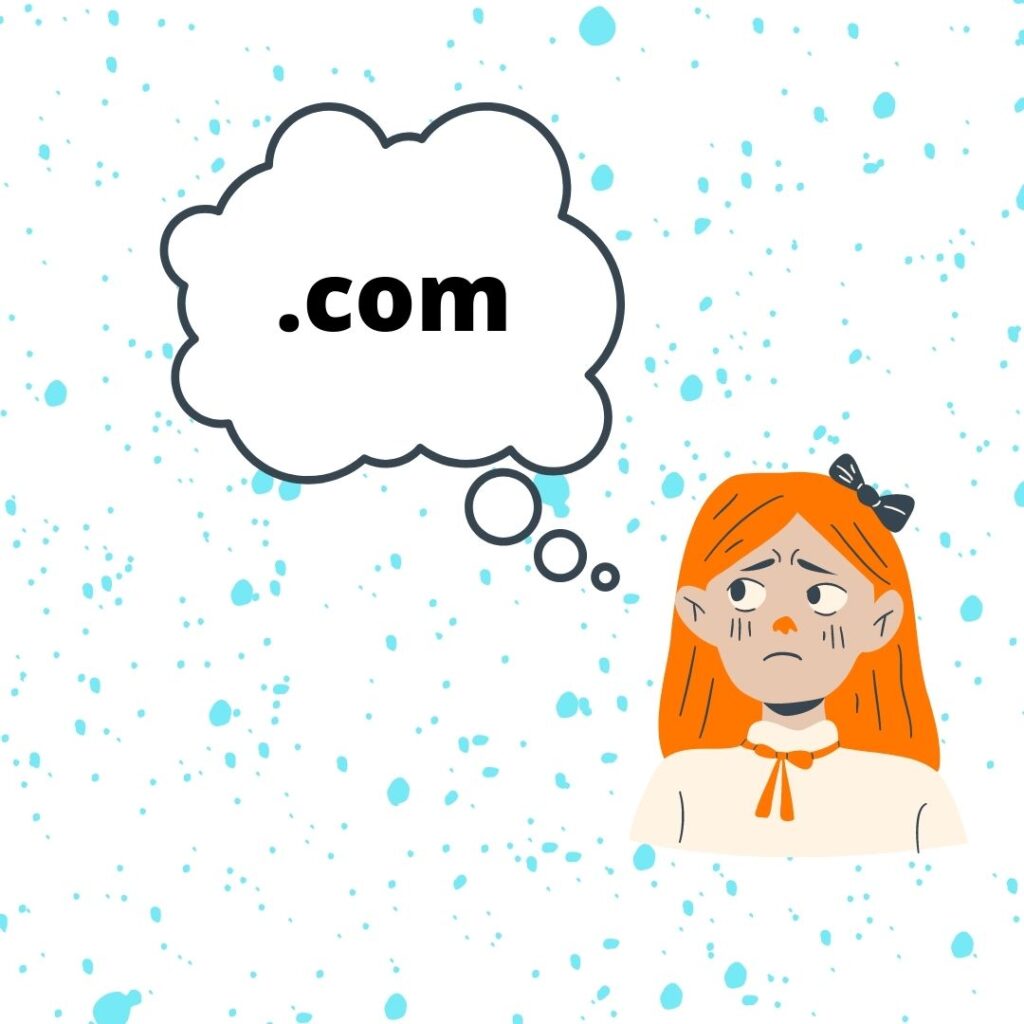 I needed a name, and it's not as simple as it sounds.
We always want our name to be special – be it our in-game name, brand name, or nickname. I took extremely long to think of that special name.
I even looked at online business name generators and dictionaries to find nice-sounding words! 😂
A major problem was the domain availability of my brand name. Thinking of a name is easy, but finding an available one is another matter.
I had to run through a domain checker to see if every .com name I thought of was available. (You don't have to go for a .com domain, I just prefer it for my industry)
I tried many possible names but guess what – it was all taken. No surprise there!
It's extremely hard to find a good available domain name!
I later came across the word "rarefy". It struck me. I immediately searched for the word. According to Merriam Webster, it means…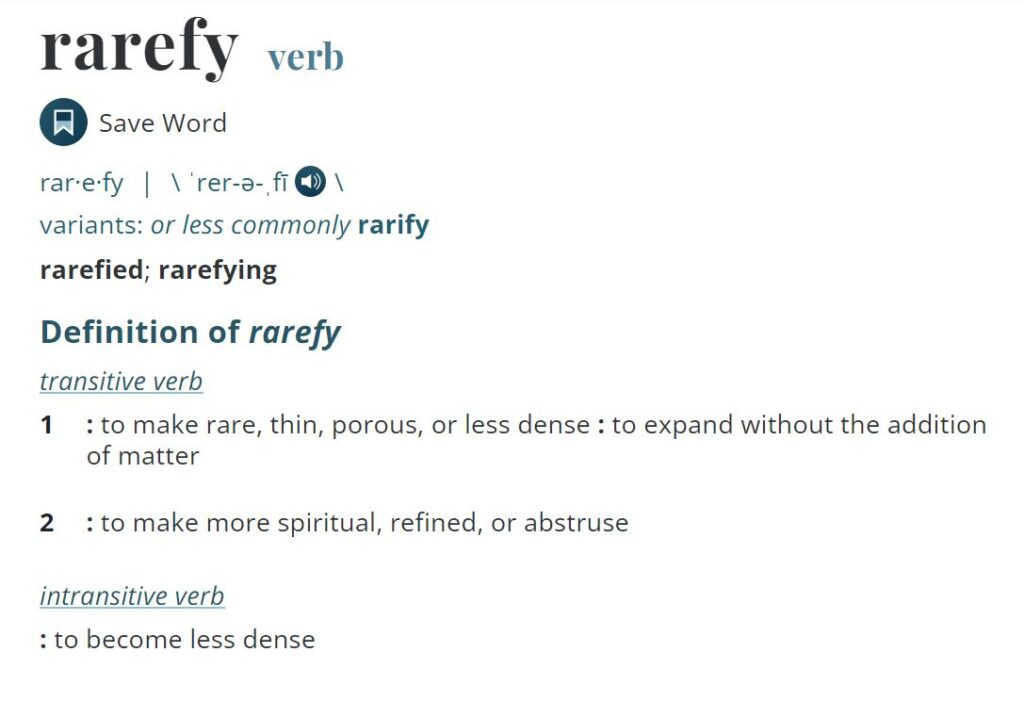 Image: Merriam Webster
To refine, to make less dense. Perfect! Now to check its availability…

My heart dropped. It was taken again!
I thought about it for a while. I felt that the word was missing something.
So, I tried adding an "i" behind "rarefy" because it seems to flow, and had the acronym "fyi" at the end. (fyi = for your information)

YES!!!
It sounds pretty cool too! This will definitely be my domain name…
At the end of the day, "It's not about your brand name that is special. It's about how you give meaning to your brand name that is special."
I know that my journey of creating a website/blog will be a tough one that requires much commitment, but I'm ready to inspire more people to share their experiences and life stories!
These may interest you:
Conclusion
Don't wait for motivation, just start doing the things you've always wanted to do. Better to fail when you're younger than older.
Of course, do your relevant research and planning too.
Whenever I'm faced with temptations to give up, I think back to why I first started Rarefyi in the first place.
If you have any questions, feel free to comment, message, or contact us and I'll try my best to answer based on my experiences.
That's all for part 1 of my experiences of starting a website and blog. Part 1 covers my first month of creating Rarefyi. Stay tuned for more updates! I'll be more than happy if you could follow us on Instagram, Facebook, LinkedIn, and Telegram!
Those that have been there, done that, any tips to share?
We'd LOVE to Feature You!
Your experiences are highly valued by others.
You Deserve to Make Better Decisions.
Receive summaries of experiences & guides, from those who've been there, done that.
If you like our content, we'd appreciate it if you could follow us on our social platforms!
It'll bring us one step closer to equipping everyone with knowledge to make better decisions.