Welcome back to part 4 of our journey of creating a website/blog! Over the past few months, I've been mostly adding to my backlog of articles to prepare for launch. I've also been contacting people who may be interested in sharing their experiences and stories on Rarefyi.
Start reading our journey from Part 1 here, and let's grow together!
Image: Rarefyi's About Us Page
I have since published a few key web pages such as the About Us page and the Writer's Guidelines page.
Since I am currently serving National Service, my launch was delayed by a few months. I decided to finish more articles before Rarefyi's launch to give myself some leeway in case I don't have enough time.
Back to topic – how to write your blog articles. I'll show you exactly how I plan, write, and publish my articles on Rarefyi. From the writing structure to best practices, this is how I do it.
I want to help you to learn how to write your own blog articles!
How I Write My Blog Articles
Writing Style and Goals
Personally, I choose to write informally in first-person because that is how I want to portray my brand/myself – to be sincere and relatable.
You need to figure out your personal writing style and goals. It all starts with understanding your target audience. If you are writing to businesses or professionals, you might want to switch up your tone of writing.
However, it's never a good idea to be too serious – you risk sounding like a robot and will lose your readers' interest.
What to Write About?
Image: Snapshot of Quora Search
If you're writing for fun, you can write about anything! The downside is, there may not be many people viewing your posts.
It is good practice to start with a few niche topics that you like, and then branch out from there. You may find relevant topics to write about, or answer questions that people are asking. (You can find them on Quora, AnswerThePublic, etc.)
When starting out, try to write on topics you love, if not you may give up halfway. For Rarefyi, we focus on Experiences, Happenings, and Guides. Rarefyi showcases sincere experiences so I write about my own experiences regularly.
The goal of your articles should be to add value to readers.
I try to make my articles as detailed and helpful as possible. So, the word count naturally adds up to more than 1000 words.
It doesn't mean that if your article is short, (only a few hundred words), there will be no traffic. If it adds value to readers, there will be eyeballs!
Start Small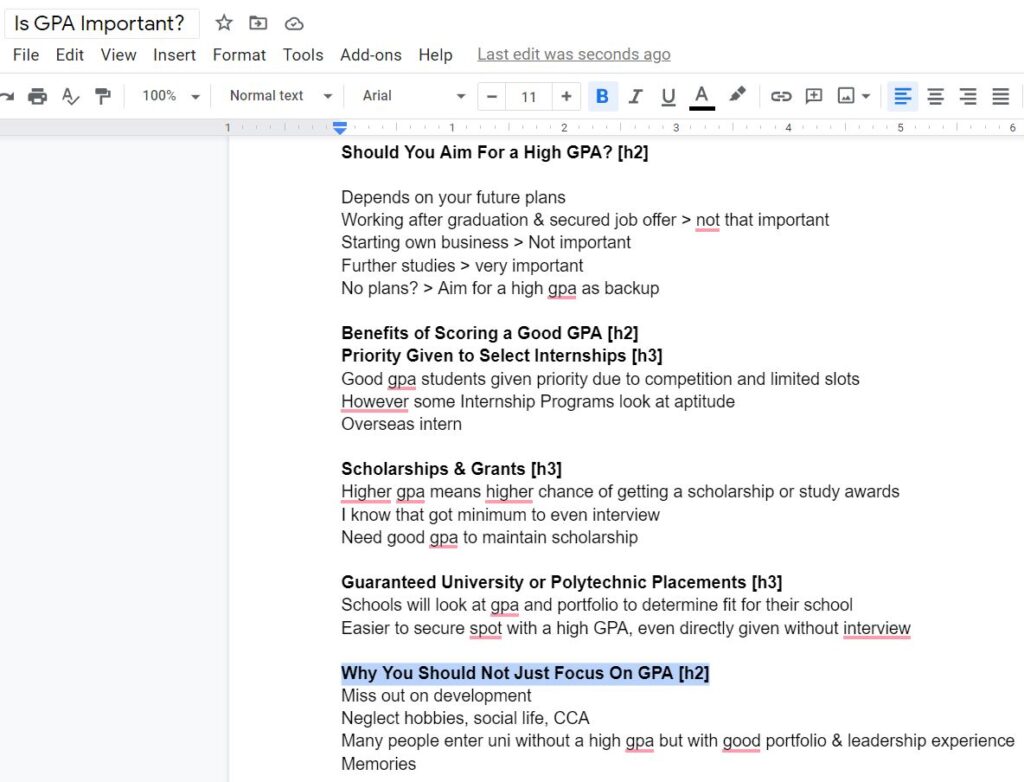 Image: "Is GPA Important?" Article Draft
You should never jump straight into writing paragraphs. Start writing down your headings and subheadings first, followed by your main points for each heading.
Forget about grammar and spelling during the drafting phase. Write as many important and relevant points down as possible.
"By writing down your thoughts in bullet points, you'll have a clearer picture of the content to include along with improved writing flow."

– Jonas Ngoh, "

Is GPA Important? Do This If You Have a Low GPA

"
Once I have a topic in mind, e.g. "Is GPA Important?", I'll start to write down headings and subheadings.
It should look something like this, as per the image above:
Should You Aim For a High GPA? (H2 Heading)
[main points]
Benefits of Scoring a Good GPA (H2 Heading)
Priority Given to Select Internships (H3 Sub-heading)
[main points]
… and so on.
After I've written my first level of subheadings (H2), I proceed to the next level of sub-headings (H3), if any.
In the end, once I've written down all the main points and have a sense of structure, I will convert them into paragraphs. Remember, it should flow naturally and have smooth transitions!
Read my article on "How to Win a Writing Competition", where I elaborate on many other tips that you can apply to write blog articles!
Proofread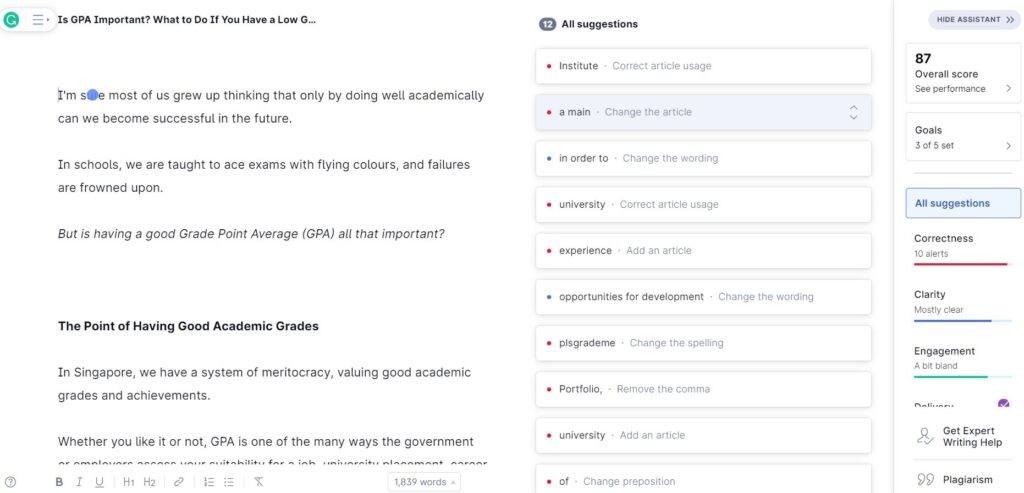 Image: Using Grammarly For "Is GPA Important" Article
Finished writing your article? Don't publish it immediately.
Read your article out loud to see if it flows and run it through Grammarly for a fresh perspective. Grammarly is a freemium writing assistant that identifies spelling, grammar, punctuation, and other mistakes that you may have otherwise missed.
I often find mistakes that I overlooked when I run my article through a writing assistant. Then, all you have to do is rectify the mistakes accordingly.
How to Start Writing Without Your Own Website
You don't need to have your own website or blog to start publishing articles. We welcome you to join us as a Rarefyi-an!
You can share your personal experiences, guides, or advice with others through our platform. You'll be credited as an author and reach your desired audience.
Even if you wish to share your story in point form, we'll accept it! Your ideas will be converted into an article and will be used to help others.
What are you waiting for? Begin your journey as a writer now!
Conclusion – How to Write Blog Articles?
There you have it – How I write my blog articles. I hope my methods help you in your quest to start writing.
Through starting my own website/blog, I've learnt many important lessons and made many mistakes. I'm sure you'll have a similar experience as me.
Most importantly, enjoy the process of writing and you'll sleep well knowing that your content is helping others who are facing the same issues or are preparing for their next endeavour.
I wish you all the best!