I'm not exactly sure where I should start. Recently, I POP-ed (Passing Out Parade), meaning I successfully completed Basic Military Training (BMT) in Tekong. By completing BMT, everyone's rank will be promoted to Private.
In this article, I'll try my best to squeeze 9 weeks worth of BMT activities into a helpful BMT guide. Moreover, I'll share my personal experiences and my life as a recruit. Hopefully, you'll get an idea of what to expect during BMT through my BMT Guide.
How Long is BMT in NS?
Firstly, how long is BMT in Singapore SAF?
If you are PES A or B1, with a pre-enlistee IPPT score of more than 61 points, it is 9 weeks in BMTC in Pulau Tekong. Scoring less than 61 points will require you to serve 17 weeks of BMT.
For enlistees who are PES BP, you must serve 19 weeks of BMT. If you are PES B2, B3, B4, or PES C, you will serve 9 weeks.
More information can be found on CMPB's website.
I was a recruit under the enhanced batch (PES B1/A who passed IPPT). Without further ado, here's my life as a recruit in the SAF and the long-awaited BMT Guide!
Summary of Things You Will Do During BMT in NS
Your BMT Guide, summarised.
Daily Routine:
Reveille – Wake up very early
Cookhouse food
Last parade
Lights Out – 7 hours of uninterrupted rest
Training Activities:
Agility Group Run (AGR)
Intervals
Strength & Power (S&P)
Basic Close Combat Training (BCCT)
Swimming
Metabolic Circuit
Combat Circuit
Standard Obstacle Course (SOC)
High Key Activities:
Field Camp
Timed Standard Obstacle Course (SOC)
Basic Trainfire Package (BTP)
Hand Grenade Live Throw
Individual Physical Proficiency Test (IPPT)
Close Quarter Battles (CQB)
Battle Inoculation Course (BIC)
24km Route March
Day in Life of a Recruit in BMT Guide
Your Daily Schedule – Routine Orders (RO)
And so your recruit life begins! Your daily schedule is given to you in the form of Routine Orders (RO), the night before. Hence, you'll roughly know what you'll be doing the next day.
Usually, Lights Out (sleeping time) is at 10 pm. Bunk lights need to be turned off before the lights out timing or your section may get it from the commanders. During BMT, STOP using your phones during lights out. If you are caught, your phone may be confiscated or you will not be able to book out with your friends.
Don't be surprised if you see your commanders spot-checking on you in the middle of the night!
The timing at which you wake up, better known as "Reveille", is very early (around 5 am). At first, your body clock may not get used to it thanks to those nights you stayed up late. However, you will get used to it eventually but ask your buddy to wake you up just in case!
During the day, you'll normally have 2 physical training activities which I will elaborate on below.
Eating Cookhouse Food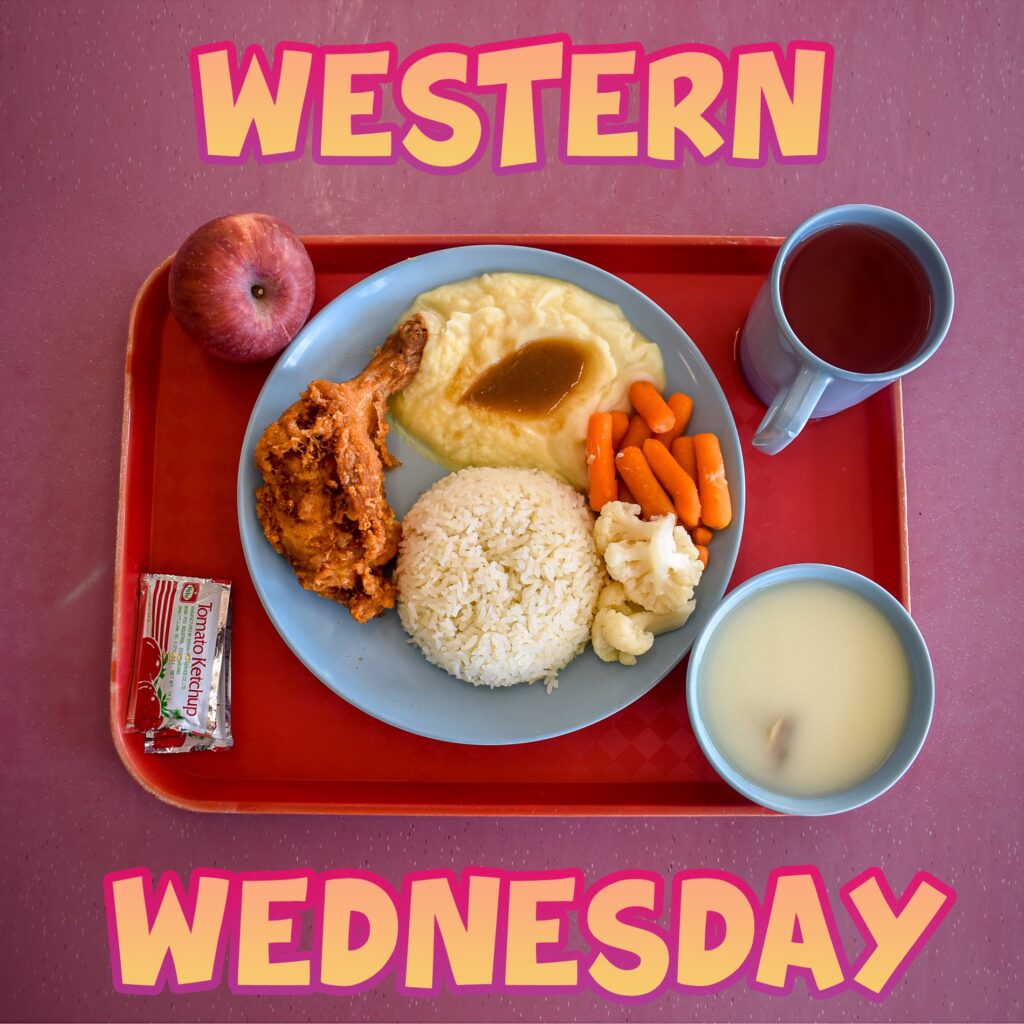 Image: Basic Military Training Centre (BMTC) Facebook
Honestly, cookhouse food is better than I thought. There is really a lot of variety and cookhouse food actually tastes pretty good. (Although some may say otherwise)
Since you use up so much energy during training, you'll tend to eat a lot more during your BMT phase. I was never a heavy eater but I ate more than usual. You only have 20 minutes or less to eat.
Sadly, recruits are not allowed to buy food from the canteen or use vending machines. So, if you hate cookhouse food, sorry but that's your only option!
The Cookhouse Breakfast, Lunch, and Dinner menu changes every day. Here's what you can expect from the Cookhouse Menu:
Breakfast
Bread with different spreads (strawberry jam, peanut butter, etc.)
Steamed Bao
Sausage and Buns
Scrambled Eggs
Bee Hoon
Lo Mai Gai
Fan Choy
Milo, Coffee, Tea
…and more!
Think of lunch and dinner as cai fan. Expect rice or kway teow, chicken, and soup. Some days, you'll get curry rice too!
Everyone looks forward to the special "Western Wednesday" where fried chicken and ice cream is served once a week.
There are also days where you will have "out rations" instead of going to the cookhouse. The menu is the same, but it's packed in a container for you. (no drinks!)
Physical Training (PT) In BMT Guide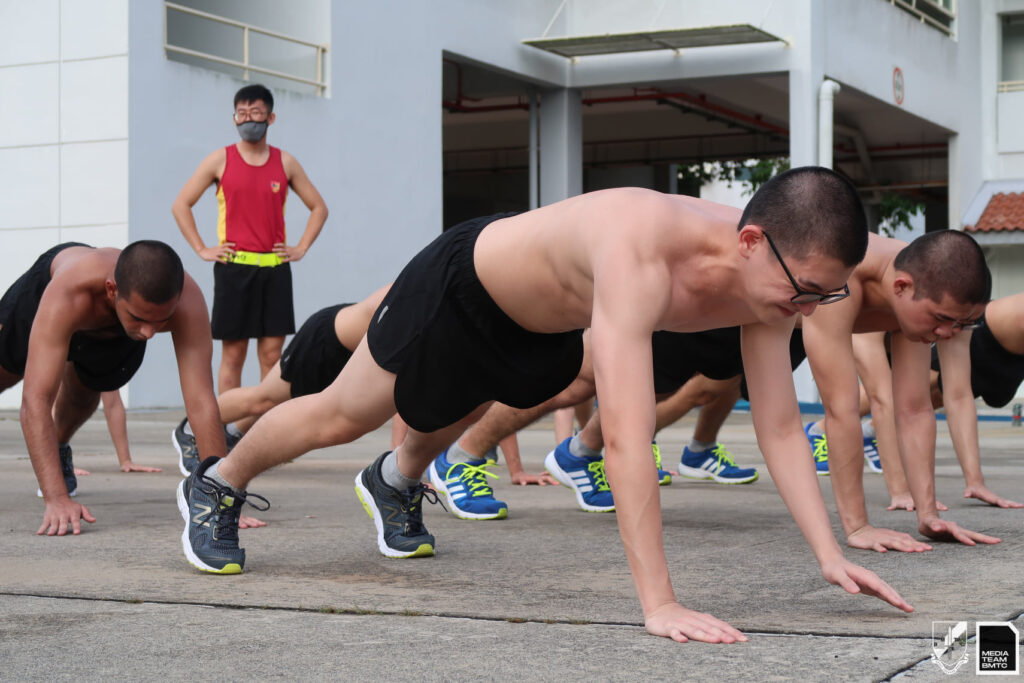 Image: Basic Military Training Centre (BMTC) Facebook
Are you ready for tough physical exercises? PTs are designed to get you into military shape. You MUST do warm-up and cool-down exercises properly to avoid injuries.
There'll also be a water parade before and after any physical training session. You are required to drink half a full water bottle, which is around 500ml, in one sitting.
Here's a glimpse of the kinds of PT you'll do during BMT in tekong:
Agility Group Run (AGR) – Run non-stop for 15-20 minutes at a constant pace + core exercises (4 for the core)
Intervals – 6 sets of 60s jogging and 30s sprinting
Strength & Power (S&P) – Push-ups, pull-ups, dumbbell exercises, core exercises
Basic Close Combat Training (BCCT) – learn fighting fundamentals like jab and uppercut + fighting short-range with a rifle
Swimming
Metabolic Circuit – 6-10 exercises (push-ups, leg raises, butterfly kicks, squats, jumping squats, planking, crunches) + jumping jacks during intervals
Combat Circuit – Exercises with your field pack
Moreover, you need to carry along your essential pack with you at all times, which is a small zip lock that contains – you guessed it – essential items.
The essential pack must contain:
Risk Assessment Card (RAC)
Thermometer
Scannables (11B IC & EZ Link Card)
Permanent Marker
SAF Notebook
You'll need to fill in your RAC Card with a permanent marker before any training activity. You can use a whiteboard marker or hand sanitiser to erase afterwards.
Talks and Briefings
Brace yourselves, there will be a lot of talks, especially recruitment talks during BMT. From the Air Force to the Navy, it seems like every branch of the Singapore Armed Forces (SAF) will try to recruit you.
Nevertheless, it is good to take a break from training and enjoy some air-con once in a while. Before you consider signing on with the Singapore Army, consider the bond period and your future aspirations. Maybe I'll add on pros and cons of signing on to the BMT Guide in the future?
There are a lot of upsides to signing on such as financial stability but it ultimately depends on where you are in life and your priorities and goals.
High Key Activities
How can this be a detailed BMT Guide without high keys? High-keys are important events that you need to pass in order to POP and get promoted from Recruit to the Private rank. It will mean that you successfully graduated from BMT, and are no longer a recruit!
Field Camp – Individual Field Craft (IFC)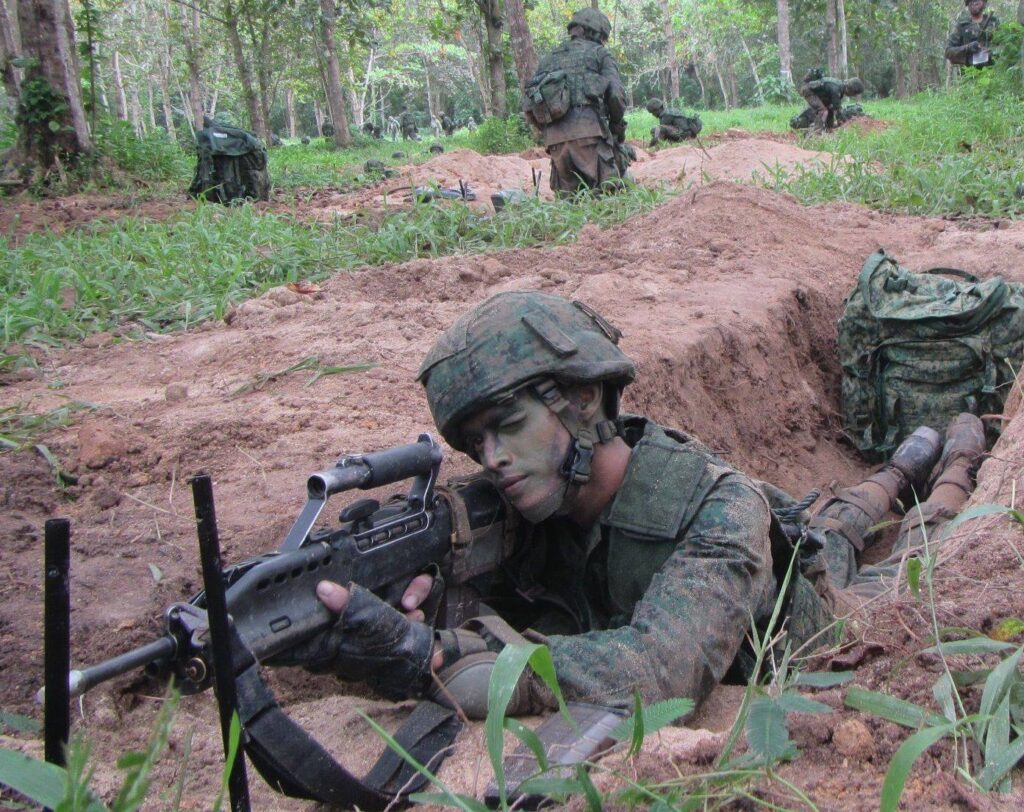 Image: Basic Military Training Centre (BMTC) Facebook
Field Camp may be the most tiring high-key in BMT. It is 5 days 4 nights long if you are PES A/B1. On top of that, you'll need to camo on (apply camouflage) almost all the time!
There are 3 main things you will do during field camp:
Fire Movement to the Front/Rear Drills
Digging of Shell Scrape
The SIT Test is one of the most important factors that affect your chances of entering command school. Read more about it here!
Field camp will also probably be your first time trying combat rations! Eating from a green Meals-Ready-to-Eat (MRE) packet in the jungle will be an unforgettable experience.
Pro tip: Remember to empty your bowels before going to field camp!
There's another memorable part of the field camp (not going to spoil it for you). But if you watched Ah Boys to Men, you should know what I'm talking about…
Standard Obstacle Course (SOC)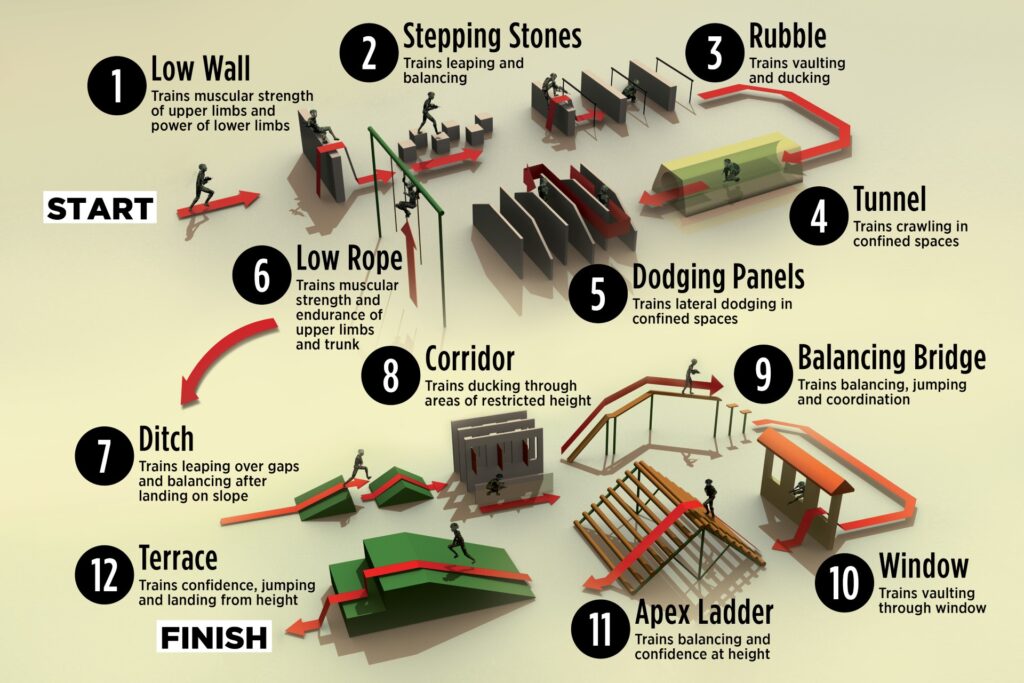 Image: MINDEF
SAF will train you for the SOC test. For the first few sessions, it'll be without a rifle and Load Bearing System (LBS).
SOC in BMT consists of 12 different obstacles:
Low Wall
Stepping Stones
Rubble
Tunnel
Dodging Panels
Low Rope
Ditch
Corridor
Balancing Bridge
Window
Apex Ladder
Terrace
Afterwards, you need to run a distance of 300m back to the starting point. It's very tiring, especially with your rifle and LBS.
Many people struggle with 4 of the mentioned 12 SOC obstacles. Let me give you some tips!
Low Wall
The low wall tests your upper body strength and leaping ability.
Pro tip: Get a running start. Use the momentum of your run-up to kick up the wall and hold on for dear life. Once you swing your boot over the top of the wall, you'll be in the clear.
Low Rope
Contrary to what people think, not much arm strength is needed for this station.
Pro tip: Technique is the most important element to clear the low rope. Wrap your feet and grip the rope firmly, allowing you to "step on the rope" to pull yourself up easily.
You can use the S-Method or the Wrap Around Method.
Balancing Bridge
This obstacle trains your ability to balance and conquer fear.
Pro tip: try to walk up the bridge like you are walking up the stairs.
Apex Ladder
Afraid of heights?
Now's the time to train your confidence! The Apex ladder trains your ability to balance and be swift.
Pro tip: Be quick but be careful. Don't stop because once you do, you start to panic and stumble. Hold your rifle as close to you as possible.
Going up the Apex Ladder may be easy, but the hard part comes at the peak of the ladder. You need balance on one leg while you place your other leg on the bottom part of the ladder.
Basic Trainfire Package (BTP) – Live Firing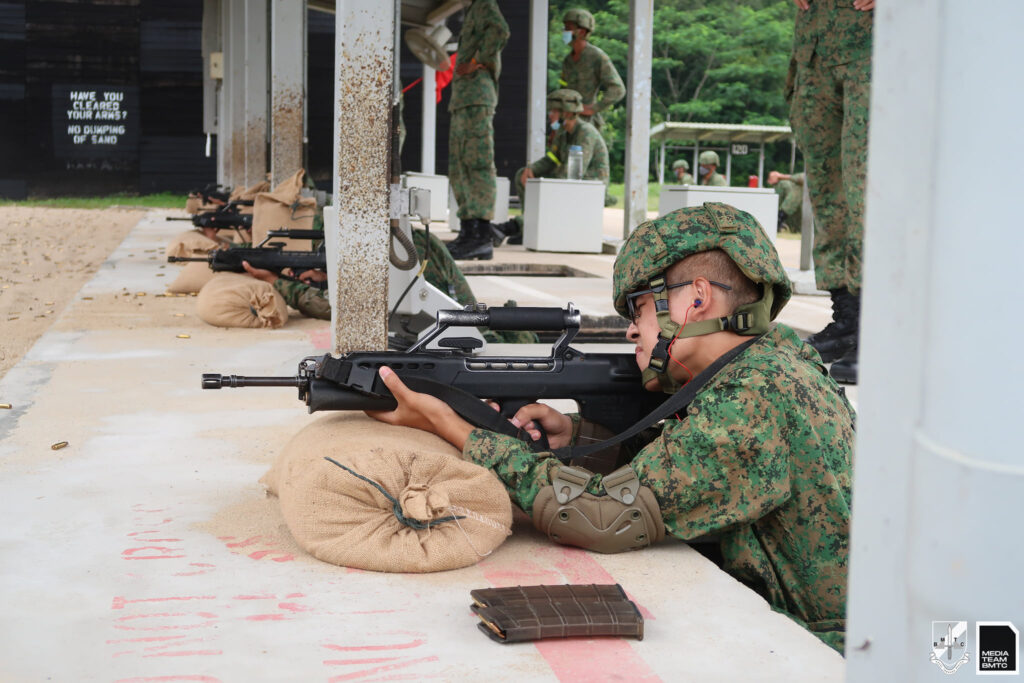 Image: Basic Military Training Centre (BMTC) Facebook
BTP teaches us how to use our SAR21 rifles using live rounds. Before that, we have to undergo many Just-In-Time (JIT) drills (in the event our gun doesn't fire) and even a simulator shoot of the actual day which feels like an arcade room!
Take Individual Marksmanship Trainer (IMT), the simulator shoot, seriously if you want to become a marksman!
On the actual day of the live firing, you will have a Day Shoot and a Night Shoot at 100m and 50m range respectively. You have to shoot 3 figures of varying sizes.
To achieve marksman as a recruit in BMT, you have to score a minimum of 26/32. This means you can only miss 6 shots.
Don't aim for a headshot! Shoot the middle of the target to make sure you hit it down. Also, try not to shoot the wrong target!
My suggestion to help you get marksman is to increase your stability. Spread your legs against the foxhole walls, lay the gun comfortably on the sandbag, and use elbow guards!
Additionally, ensure your rifle's laser is working correctly! Shoot when the red dot lands and don't hesitate during the night shoot. More tips here!
Hand Grenade Live Throw
Safety ring twist, safety ring pull, safety pin out. Grenade ready and prepared to be thrown, Sir!
Rest assured, you will throw many practice/fake grenades before the real throw.
During the actual day, you'll be seated at the observation deck to see your buddies throw the grenade before you throw yours.
I was nervous before I threw mine too! But it isn't that big of an explosion so there's no need to be scared. Just follow the steps and the instructions of the commander assisting you and you'll be fine.
Individual Physical Proficiency Test (IPPT)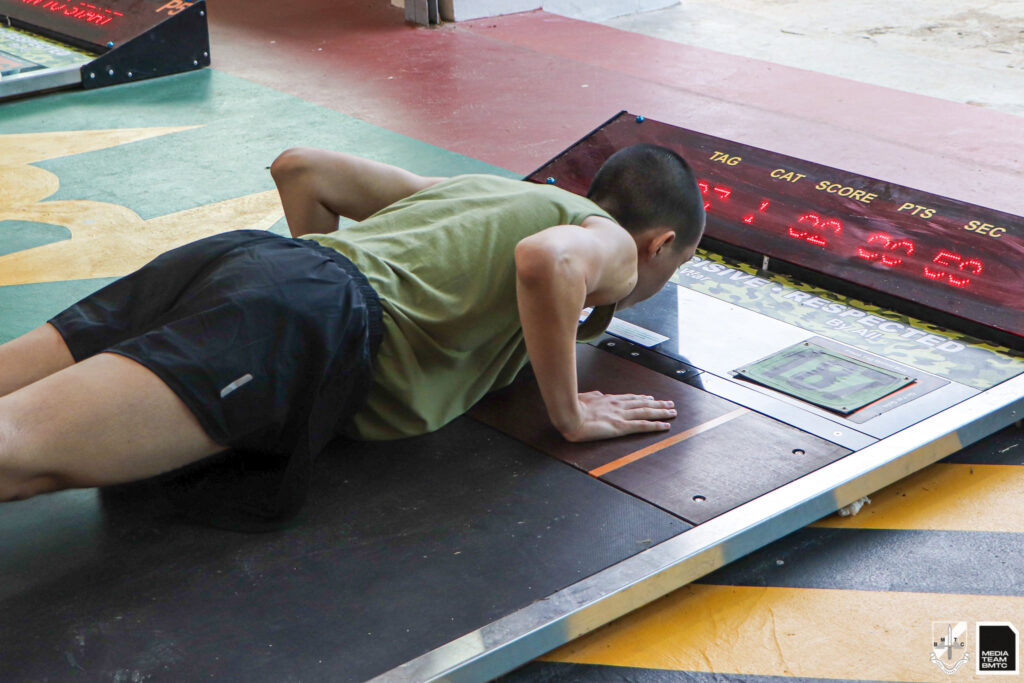 Image: Basic Military Training Centre (BMTC) Facebook
During your whole BMT phase as a recruit, you'll have around 3 IPPT tests. Only your highest score will be taken out of all the IPPT tests.
IPPT assesses you on 3 components:
Push-ups
Sit-ups
2.4km run
For statics (push-ups and sit-ups), you will be using the Electronic IPPT Scoring System (ELISS) machine and it may not be as accurate as you'd hope.
As mentioned in my "Tips to Increase Your Chances of Getting into Command School" article, go down slowly on your first push-up rep and resume normal speed after you hear the first beep. This is because the machine may register the wrong height if you do your push-ups too fast (for the first rep).
If you aim to achieve good results in your IPPT tests, consider training your statics and stamina during Self-Regulated Training (SRT).
More than anything, seek improvement as it shows your effort and resiliency!
Close Quarters Battle (CQB)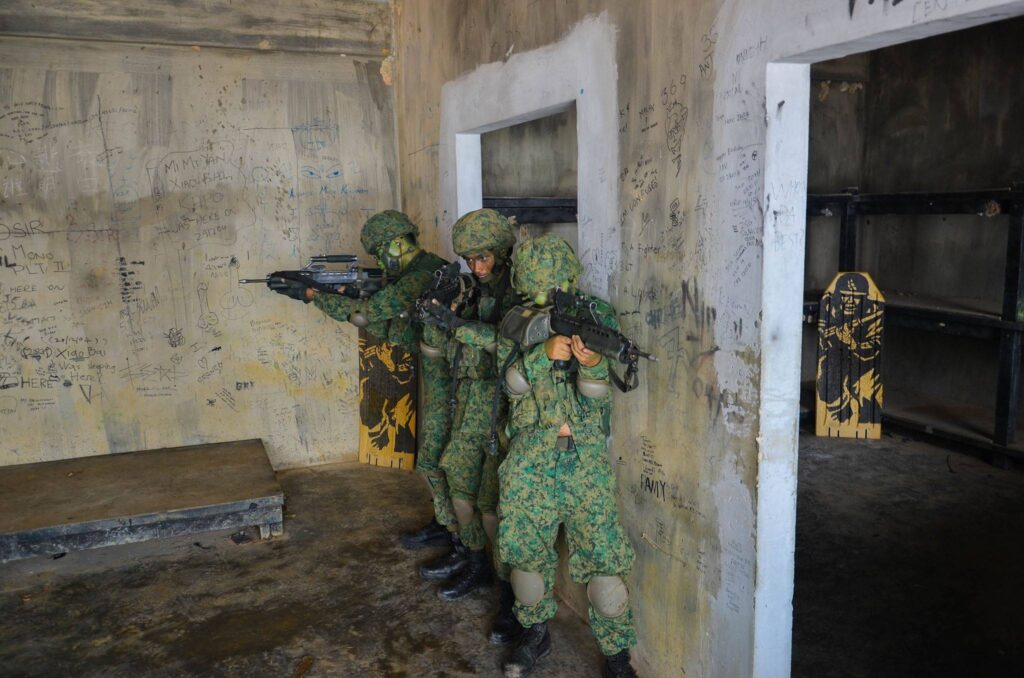 Image: Basic Military Training Centre (BMTC) Facebook
Also known as close-quarters combat, CQB stimulates urban operations. In BMT, CQB is done with a 3-man team and you will fire blanks at targets. The purpose of CQB is to clear rooms swiftly and minimise losses.
Furthermore, you'll learn how to deal with hostile people scenarios on the same day. It is through this that you learn the famous "Sir Stop Sir" scenario.
Battle Innouculation Course (BIC)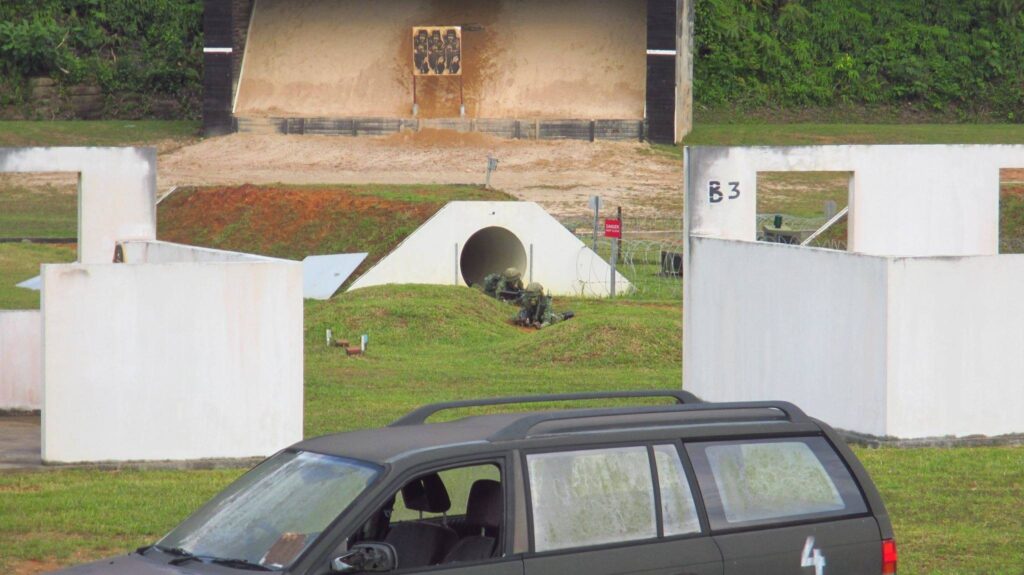 Image: Basic Military Training Centre (BMTC) Facebook
Let's get this out of the way – you'll need to leopard crawl throughout the entire course. Leopard crawling requires you to be on all fours as close to the ground as possible. It's similar to crawling from a prone position.
Besides, real shots from General Purpose Machine Guns (GPMGs) are fired over your heads by commanders. Meanwhile, you'll fire blanks in the BIC course.
With loud sirens and an endless barrage of machine-gun fire, you'll definitely feel like you are on an actual battlefield. The purpose of BIC is to test your ability to execute all the soldier fundamental skills you've learnt during BMT.
Worried you'll get hit by one of the bullets?
The GPMGs are fired from a fixed position 3 metres high by your commanders so you'll be safe!
24km Route March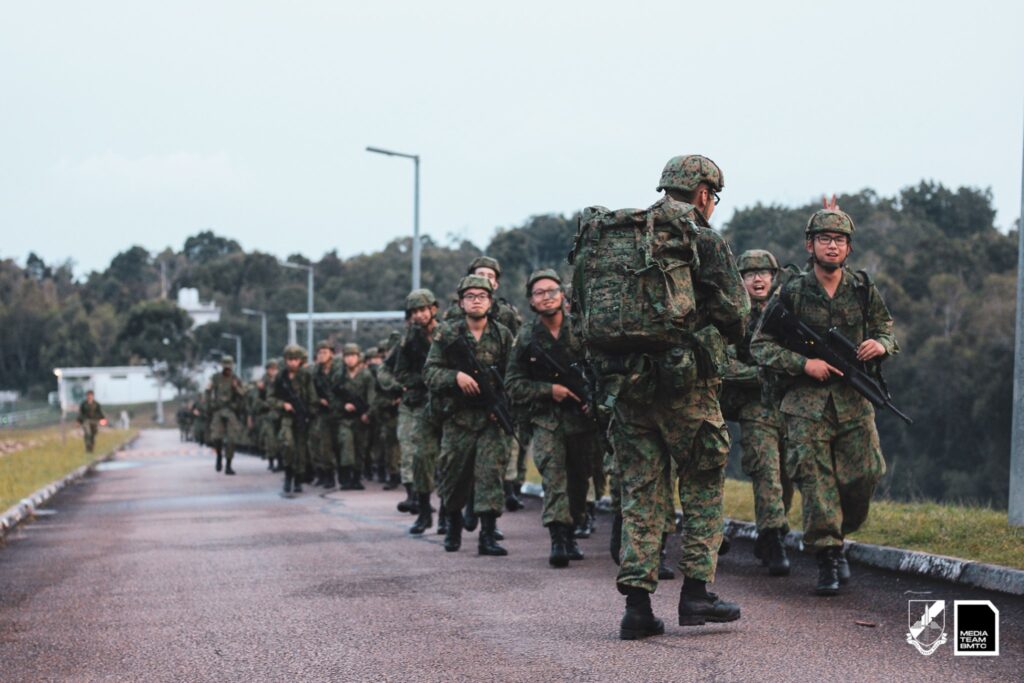 Image: Basic Military Training Centre (BMTC) Facebook
Finally, you've reached the last milestone before your POP. 24km may seem long, but you'll have ample rest between marches. Completing the 24km route march will depend more on your mental fortitude.
By the way, snacks in the form of Snickers/Mars chocolate bars, Bananas, H-TWO-O, or Ice Popsicles will be given to you at checkpoints. You'll be able to put down your heavy field pack and rifle and enjoy the treats.
I don't know about you, but that's what I look forward to as motivation to push myself to finish the 24km route march!
BMTC will train your ability to march long distances. You'll start with a 4km route march in vest slack and gradually increase in distance with more weight in your field pack.
Therefore, you won't be doing 24km on your first-ever route march. You'll do 4km, 6km, 12km, 16km, and eventually 24km on your last route march.
After the 24km route march, you'll immediately have your graduation parade (POP) and will no longer be a recruit!
Final Pieces of Advice For Our BMT Guide
Don't Be Afraid to Lead
Step out of your comfort zones! I think leading comes from a place of giving and sacrificing, which is something I wished I did more often. For example, when everyone is shag (tired), you still help in menial tasks such as refilling water, collecting out ration, or clearing the trash.
When you see someone that needs help, go the extra mile to make things easier for them. It is tiring on your part, but doing it consistently makes people respect you. If you don't lead on the first day, you most probably would be too lazy to lead on other days.
Before you know it, your BMT is already over and you'll have regrets. Leadership takes consistency. You can't be a leader today and a coward tomorrow, but you can start by being a coward and eventually becoming a leader.
Focus On the Positives
Realistically, where else would you be able to train your body and mind almost every single day?
I think the most important thing you should train during NS is not your fitness, but to have a stronger mentality.
Don't treat BMT training as a drag or burden, but view it from a positive perspective, where it will help build your muscles or train your stamina. Always try to think positively.
When you start to think positively, you will realise that you will become more resilient and motivated in whatever you do. It'll also make your days in BMT more bearable.
Of course, take good care of your health.
Conclusion – Comprehensive Recruit BMT Guide
Since you are already enlisted into the SAF as a fresh recruit, make the best out of it! There will be many moments in National Service (NS) where it gets so tiring that it's just easier to give up.
Instead, take this opportunity in NS to train your resiliency.
My commander told us about the "40% Rule" Framework. Basically, when our mind is telling us to quit, our body actually only used up 40% of its potential. Hence, it's all about having a strong mental fortitude in BMT to overcome all challenges.
Here's an update – I've received my posting results and I got accepted into Officer Commanding School (OCS). I've written an article about how to get to command school so do check it out!
If you enjoyed my BMT guide, I would appreciate it if you could subscribe to my YouTube channel. All these activities are what happens during BMT in NS.
Thank you and I hope my BMT guide helped you get an understanding of life as a recruit in BMT!