Moomoo is an online brokerage, similar to the likes of Tiger Brokers, Robinhood, Standard Chartered Trading, DBS Vickers etc.
Gone are the days of high commission fees. Previously, fees could cost minimally $25 per order when using traditional brokerage firms. Now, brokerages such as moomoo offer low fees, with an intuitive user interface and good user experience.
Let's explore the positives and negatives of the moomoo trading app, ongoing moomoo promotions and events , and if moomoo is safe.
You may use our referral code/link to enjoy free welcome gifts worth more than SGD 3700!
This is your review and detailed guide to moomoo Singapore.
Moomoo Review – Pros and Cons
Pros
Higher Liquidity
Liquidity refers to the ability to convert your assets into currency, deposit, and withdraw your funds quickly.
Using the Moomoo app provides relatively more liquidity compared to other platforms. For online brokerages such as TD Ameritrade, you may have to wait up to a week for the deposit to go through. Tiger Brokers offers similar liquidity as Moomoo.
Moomoo has a feature called "Direct Debit Authorisation (DDA)". If you use DDA, your deposited funds will arrive in your moomoo account very quickly.
Image: FUTU SG (Moomoo)
Simply link your DBS/POSB account to your moomoo account for DDA.
Deposited funds will typically arrive within 15 minutes. You can now take advantage of opportunities and not let the stock you want fluctuate too much in price!
When you sell your stock, you can't withdraw the amount immediately. You need to wait around 2 trading days after your transaction date before you can withdraw. (Funds need to settle)
However, the amount of money you have when you sell the stock should be added to your buying power and you'll be able to purchase other stocks immediately.
Access to Many Markets
Currently, moomoo allows you to invest/trade in stocks listed in Singapore, USA, China A-shares (Shanghai & Shenzhen stock exchange), and Hong Kong.
Holding stocks in different currencies has never been easier.
Low Fees
We did up an easy-to-understand image for you to share with your friends/family!
Recently, FUTU SG (moomoo) introduced zero commissions on all US stocks. More savings for us! However, do note that platform fees and regulatory fees may still apply.
It's undeniable that moomoo's fees are low (in Singapore's context).
Moomoo Fee Table (Excluding Regulatory Fees)
*for Stocks/ETFs only, Dec 2021
| | | | |
| --- | --- | --- | --- |
| Market (Country) | Commission | Platform Fee | Total |
| United States (US) | USD 0.0049/share, min. USD 0.99/order | USD 0.005/share, min. USD 1/order | USD 0.0099/share,min. USD 1.99/order |
| Hong Kong (HK) | 0.03% of transaction amount, min. HKD 3/order | HKD 15/order | min. HKD 18/order |
| Singapore (SG) | 0.03% of transaction amount, min. SGD 0.99 | 0.03% of transaction amount, min. SGD 1.50 | 0.06% of transaction amount, min. SGD 2.49 |
| China (CN) | 0.03% of transaction amount,min. CNH 3 | CNH 15/order | min. CNH 18/order |
An additional Goods and Services Tax (GST) of 7% will be levied on fees if you're from Singapore. Do check your taxes and fees if you're from other countries.
Luckily, moomoo usually has a promotional event for new users. During the promotional period, commission fees will be waived. You only need to pay regulatory fees and platform fees.
Moomoo gives new users many attractive rewards!
You may view moomoo's fee schedule (FUTU SG) for a comprehensive breakdown of all the fees.
What's the difference between CNY and CNH? You may be confused about the different Chinese currencies. Both are Renminbi, but CNY is traded on the mainland while CNH is not. (Both are similar in value)
Although moomoo's fees are low, it's important to pay attention to other details.
For example, Hong Kong stocks are sold by lots (100 shares). If you choose to buy only 5 shares of Tencent Holdings, it's considered as an odd lot purchase. With a minimum fee of HKD 18 per order, purchasing 5 shares may not be worth it after accounting for fees.
The same goes for other markets when your transaction amount is very low.
Excellent Customer Service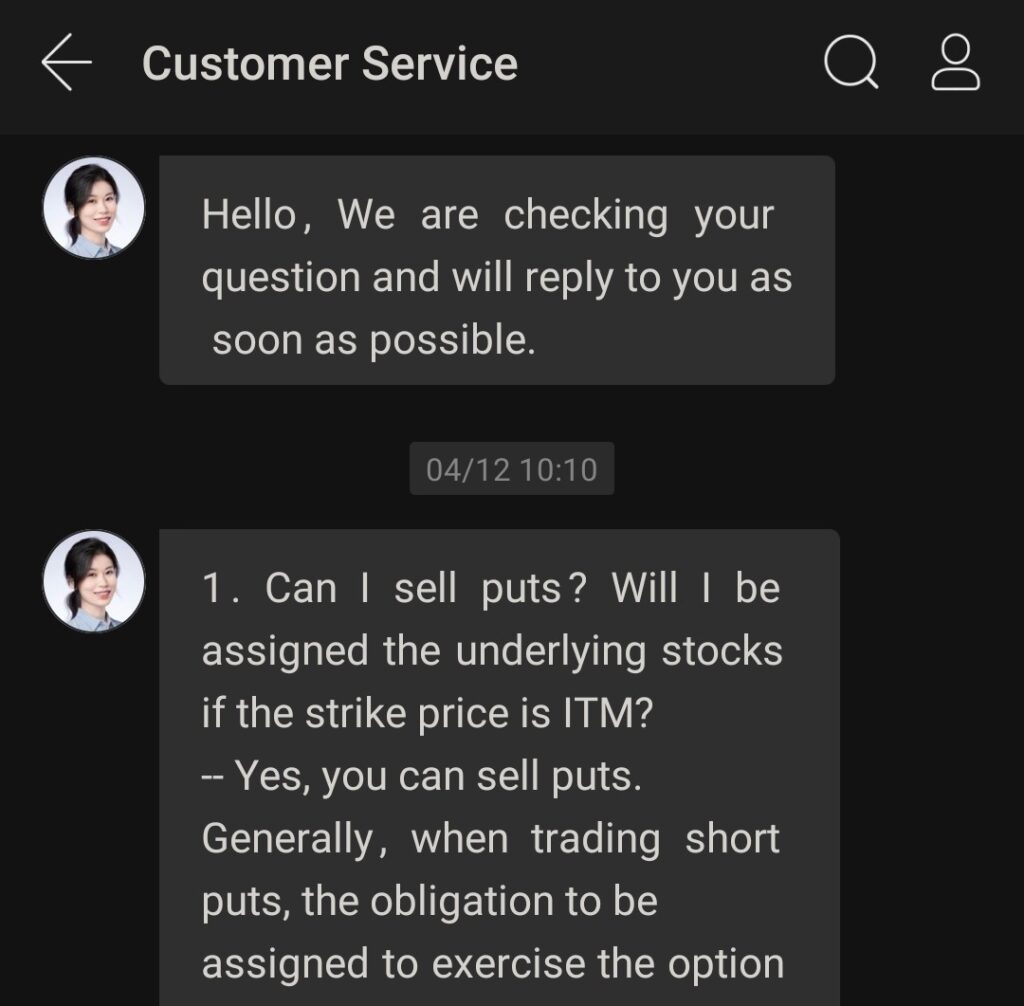 Moomoo's customer service is top-notch. They are polite and prompt in replies. When I first asked a customer service agent questions, I was shocked to receive a reply in minutes.
When they didn't know an answer to my question, they would find out from their team and get back to me quickly. Overall, they solved my issues and questions with ease.
What I like about moomoo is that they treat their customers right, as evident from their replies. They will try to solve your problems or questions to the best of their abilities and will follow up.
How to contact customer service?
Before contacting them, I suggest you visit their help centre first. Your issue or questions may already be on there.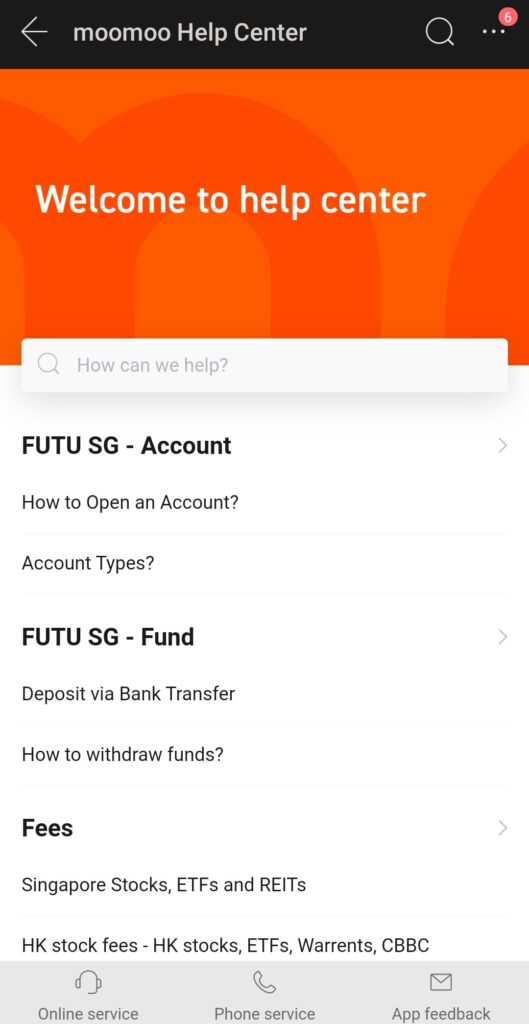 The help centre can be found under "Me" on the bottom right corner, located somewhere in the middle.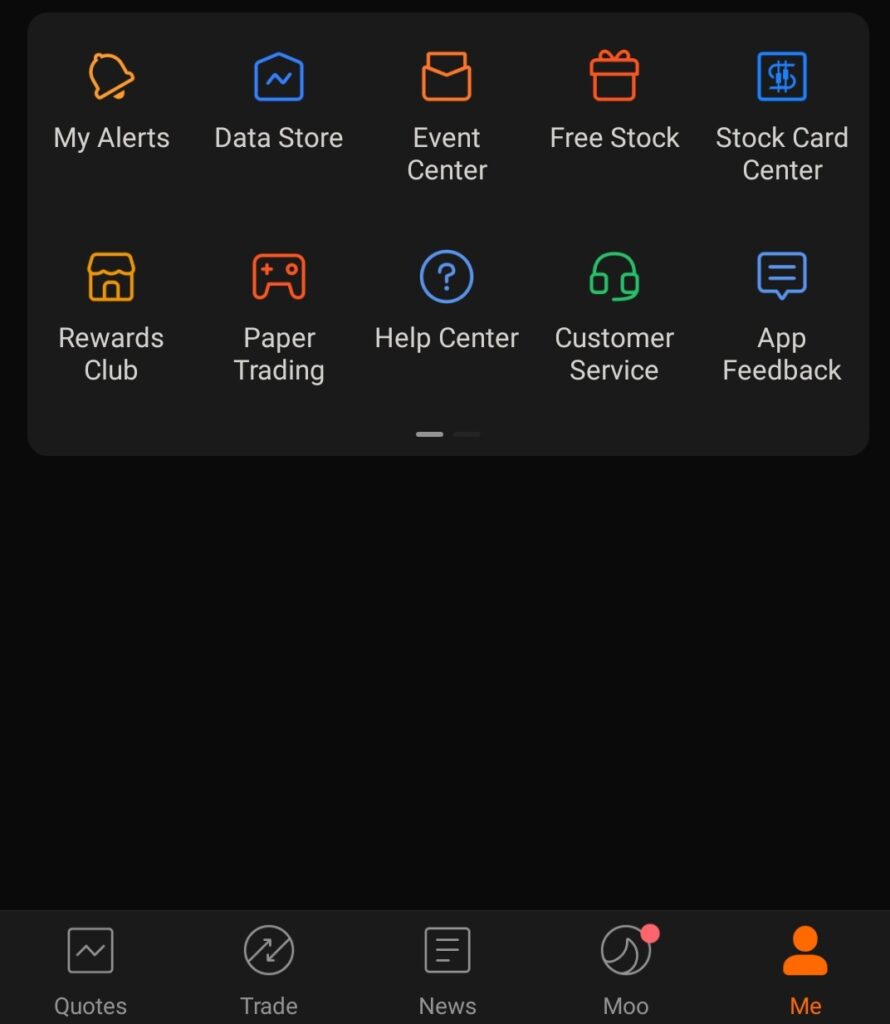 Assuming that your problem cannot be found in the Help Centre, you can chat with customer service by tapping on the "Customer Service" button, under the "Me" page.
Abundant Information and Resources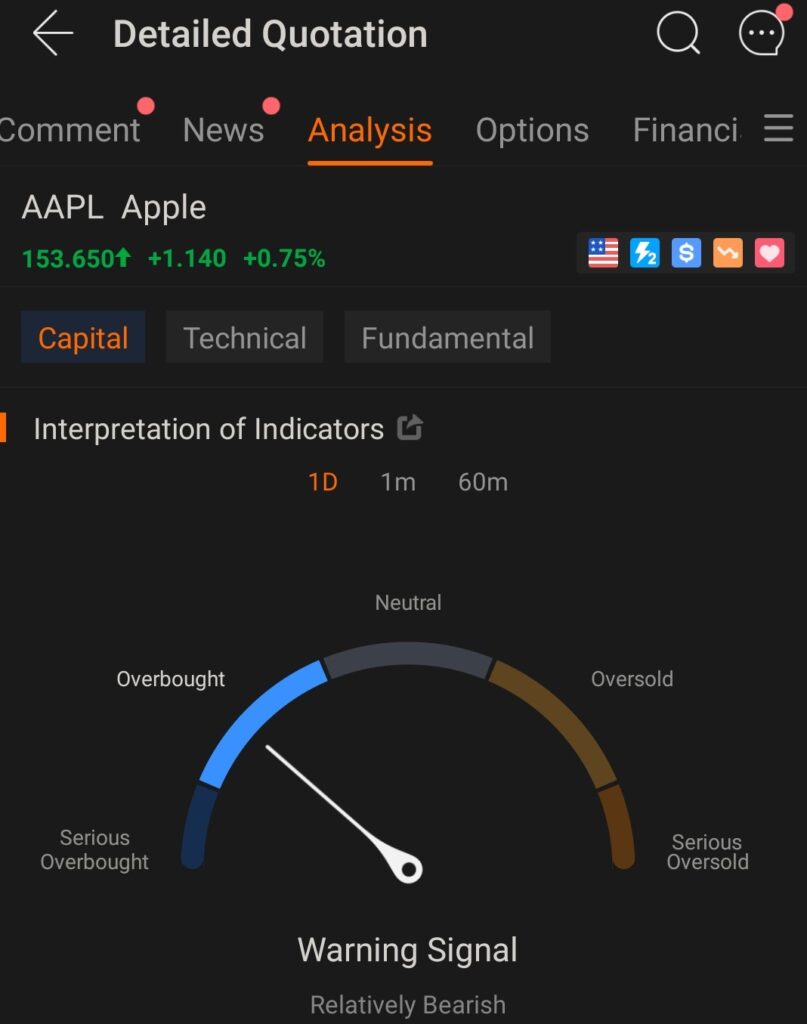 When viewing a stock quote, moomoo breaks information up into the price, market data, analysis, forum, financials, options, and news. It's basically a one-stop platform for information regarding a stock.
They provide analysis on stocks, whether it's overbought, oversold, and sentiment (bearish or bullish). Of course, you need to do your own analysis but moomoo's analysis acts as a good reference.
Traditional brokerages may not have such information and resources available, all in one platform.
Additionally, you may practice trading/investing with moomoo's paper trading feature.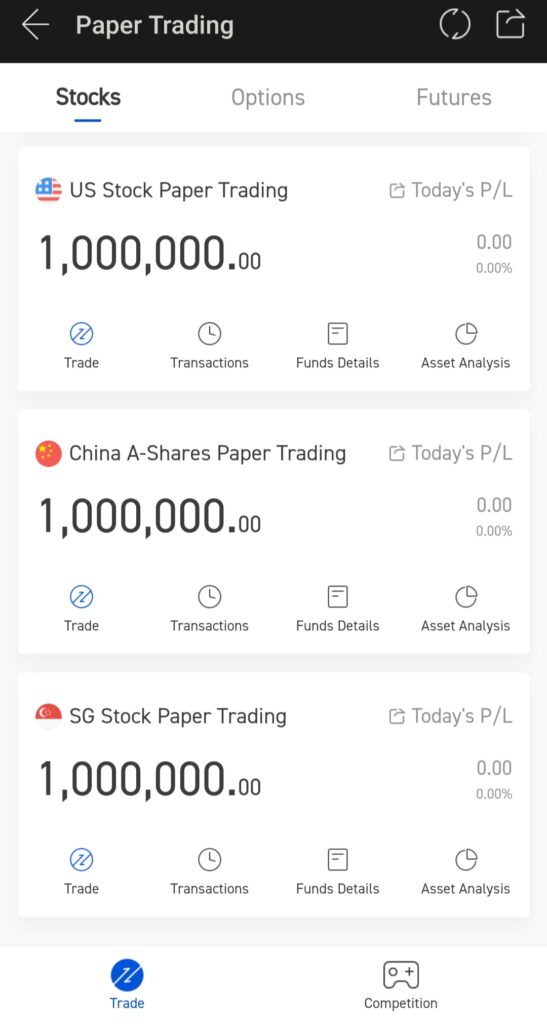 Paper Trading can be found under the "Trade" tab.
You will start with 1 million of each respective virtual currency. You may even take part in the Moomoo Trading Competition, which will be further explained in the article.
Earn Points and Redeem Rewards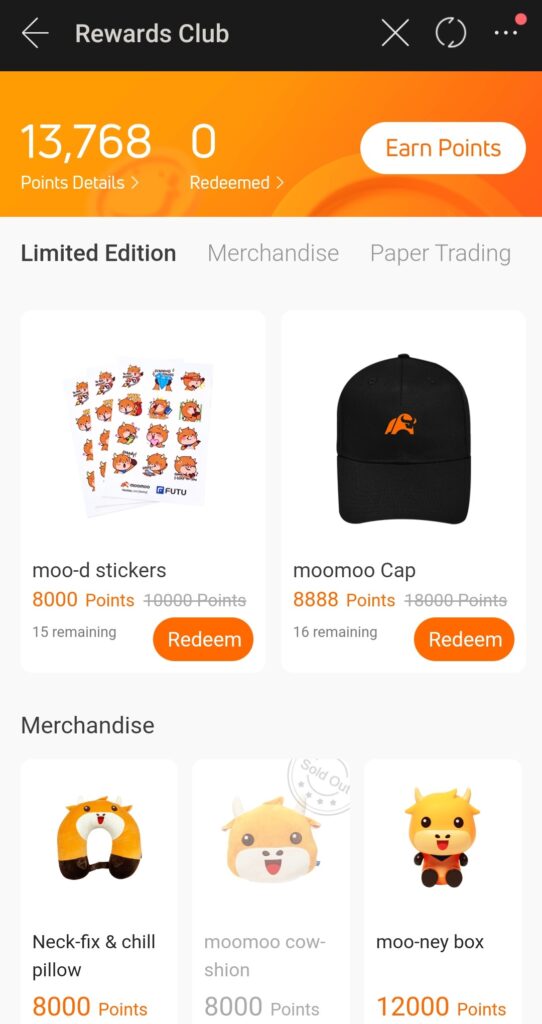 Did you know that logging in to moomoo every day gives you points?
Simply put, you have to visit the task centre located under "Me". Logging in consecutively for days will earn you more points. Furthermore, there are daily tasks for you to complete for extra points!
Once you've earned enough points, you can redeem them for moomoo merchandise such as neck pillows and piggy banks. Different levels of stock quotes are also available for redemption.
Cons
Currency Conversion
Converting your currency every time you deposit or withdraw from moomoo may impact gains.
Depositing in another currency other than SGD may incur fees. FUTU SG (moomoo) does not charge fees, but the banks may. Depositing via DDA might be the most efficient way.
When you sell your stock in another currency and wish to withdraw, it'll be wise to withdraw in that currency instead of converting it back to SGD. Unless you need SGD, of course.
You may want to create a DBS Multi-currency account so that you can withdraw in USD/HKD without incurring any fees. If you use other Singapore banks' multi-currency account, you'll need to pay $30 in fees.
Alternatively, you can just convert your currency and withdraw in SGD to your bank account.
Stocks Aren't Technically Held Under Your Name
Your stocks are held in a Custodian Account, and not in Central Depository (CDP).
Platforms such as Tiger Brokers and Standard Chartered also hold your stocks/ETFs in a Custodian Account. Other than CDP having an added layer of security, it's somewhat easier to subscribe to a rights issue if you have a CDP account.
CDP only applies to Singapore stocks, and fees are relatively higher if you choose a brokerage that holds your Singapore stocks in CDP. So, it's up to you.
Personally, I don't mind if my stocks are held in a Custodian Account or CDP, as long as the brokerage firm is reputable.
Taxes and Additional Fees
Will I receive dividends if I buy a dividend stock?
Yes, you will receive dividends and they will be credited to your respective currency accounts. Dividends from markets such as Singapore stocks have no taxes and you will receive the full amount.
Non-US citizens have to pay a 30% dividend withholding tax (For US Stocks). Although this is not limited to moomoo but every platform, it's good to keep that in mind.
So, if you're supposed to receive $100 in dividends from your US Stock or ETF, you'll receive $70 instead.
Lucky for us in Singapore, we do not have to pay tax on capital gains for US stocks. (When you sell your stock that increased in value)
In case you're looking to buy part of a share, moomoo does not allow the purchase of fractional shares.
Dangers of Margin
Beware of margin trading. If you don't know what it means, do not activate margin trading.
Buying or selling on margin can amplify gains, but can also amplify losses.
If you don't know what you are doing, borrowing money to trade can have severe consequences and leave you with major losses.
Moomoo Pros vs Cons Summary
Pros

Cons

• Higher Liquidity
• Access to Many Markets
• Low Fees
• Excellent Customer Service
• Abundant Information and Resources
• Earn Points and Redeem Rewards (Loyalty Program)
• Currency Conversion
• Stocks Aren't Technically Held Under Your Name
• Taxes and Additional Fees
• Dangers of Margin
Ongoing Moomoo Promotions and Events
Welcome Promotion (Free Stocks and Cash Coupons)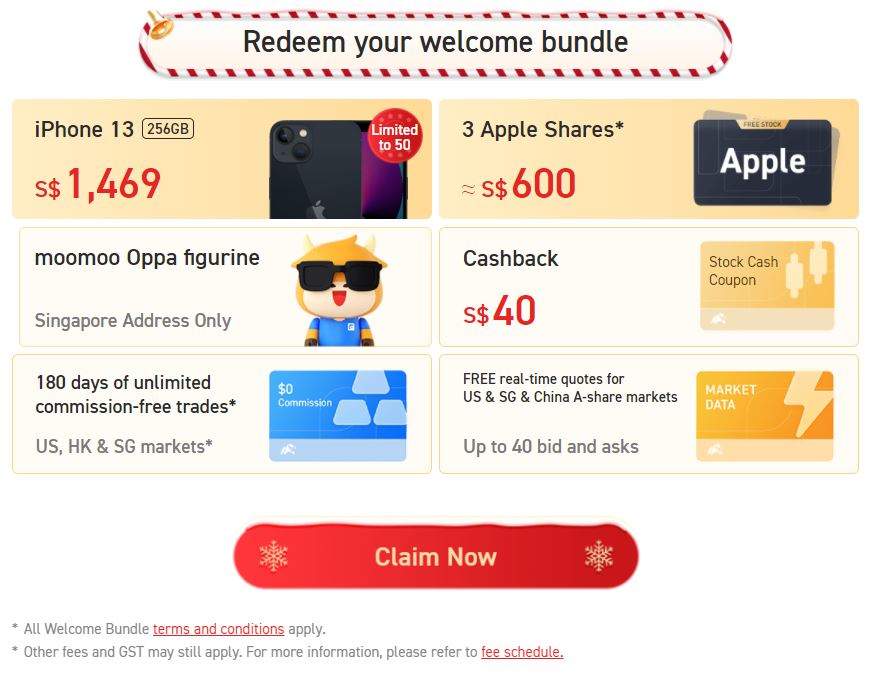 This is what everyone has been talking about.
How to get free Apple stock in Moomoo?
Moomoo is generous with gifts to users, new or old. By opening an account with them, depositing a certain amount, and trading, you'll be entitled to free Apple shares worth around USD 171 (~233 SGD) each.
The event is ongoing from 30 November 2021 (10:00 hrs SGT) to 31 December 2021 (09:59 hrs SGT).
Here's the link to the rules, terms, and FAQs.
If you miss this promotion, fret not as there will probably be another promotion next month. However, take advantage of the current promotion in case the next one never comes!
Referral Bonus
Use this referral link to create your moomoo account to receive the sign up bonus.
Furthermore, you'll be helping us greatly to continue making detailed, quality guides! Take advantage of their offer now as there may only be a limited number of Apple shares moomoo is giving out.
Your moomoo account will take 1-2 business days to be approved. Afterwards, you can start depositing. Depositing using DDA is the fastest (takes ~15mins vs 1-3 business days using bank transfer).
How to deposit? Under the "Trade" tab, you may find the deposit button.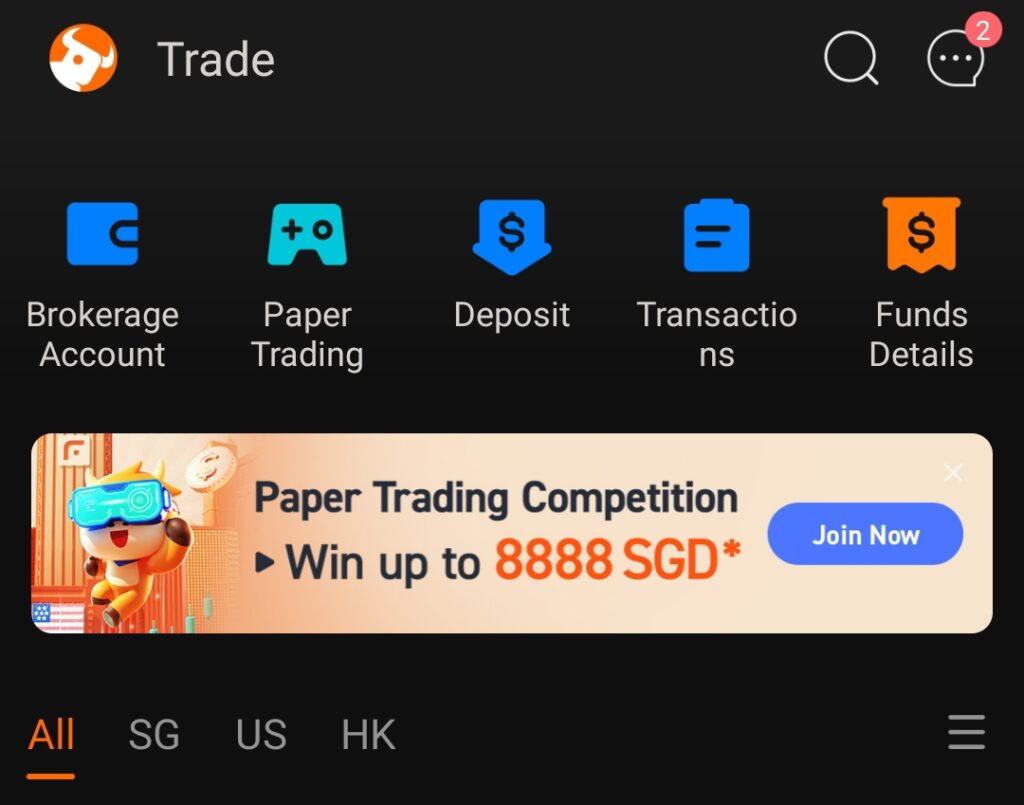 Essentially, you must create a moomoo account, deposit at least 2,700 SGD (or equivalent currency), and maintain daily assets of SGD 2,700 OR USD 2,000 OR HKD 16,000 within 30 days from the next day as of share allocation to get 1 free AAPL share. (Requirements for December 2021 Promo)
You don't necessarily have to deposit 2,700 in SGD. You may choose to deposit USD 2,000 or HKD 16,000 within the campaign period. However, you must deposit the amount in one transaction.
Furthermore, you'll receive cash coupons if you deposit 2,700 SGD or equivalent. (will be given over a period of time)
You'll get free commission for 180 days once you register a moomoo account id.
Once all of the above has been completed, it'll take around 3 business days for the Apple share to appear on your account.
NOTE: These are rewards and requirements for the December 2021 Event Promotions. Rewards and Requirements may change accordingly.
Here's a cool tip, you could buy and sell ETFs that won't fluctuate much in price if the promotion requires you to complete trades. (e.g ABF Singapore Bond on SGX, A35)
Additional rewards will be given to you if you complete your first HK/US stock transfer-in to your moomoo account. This means that you transfer your existing HK/US stock from another brokerage to moomoo. View the transfer-in rewards here.
This link shows you how to transfer your existing stocks to moomoo.
The free Apple stock may be limited, so hurry!
Paper Trading Competition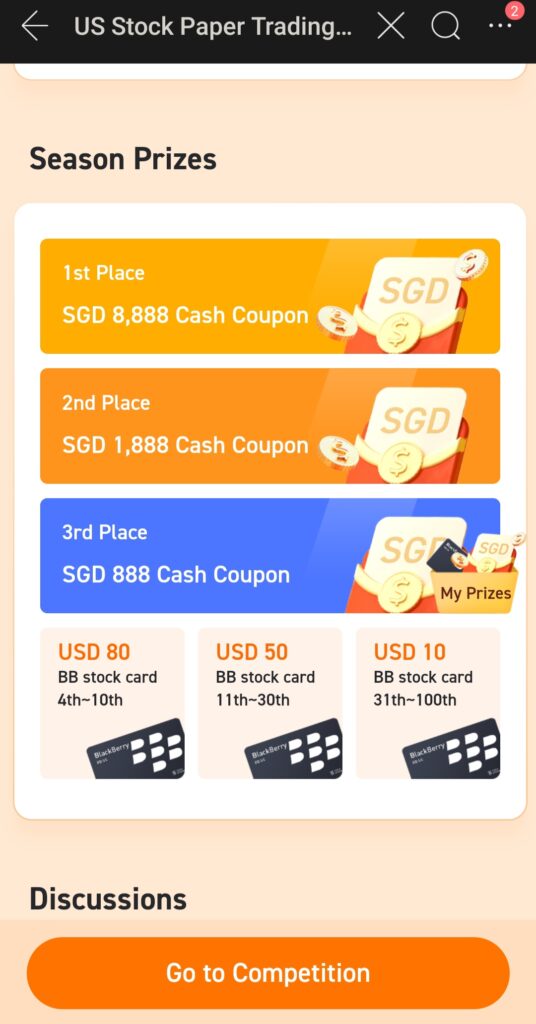 Image: Moomoo Paper Trading Competition Season 3
As seen from the image of the rewards provided by moomoo, attractive prizes are up for grabs if you place anywhere from 1st to 100th.
If you're a superb trader, this competition is a must-attend. Even if you're new to trading, who knows, you might be lucky and win some prizes.
Other than prizes given to those who place 1st to 100th, moomoo awards users points and stock cards for completing season tasks. Season tasks can be as simple as joining the competition or fulfilling your first paper trade order.
These may interest you:
Is Moomoo Safe?
I know you're probably wondering if moomoo is legit.
That's the first thing that came to my mind when I heard of a cheap brokerage firm called "Moomoo". After using moomoo for more than a year, I consider it safe.
The parent company of moomoo, Futu Holdings, is backed by Tencent and Sequoia Capital. Furthermore, it is licensed by the Monetary Authority of Singapore (MAS). Futu Singapore has a Capital Markets Services License.
Moomoo is Securities Investor Protection Corporation (SIPC) insured. Meaning, it protects your cash and assets to a certain amount if moomoo ever goes bankrupt.
Conclusion
I observe most people use moomoo for its low fees and high liquidity.
Overall, there's no harm in using moomoo, even if you just want to experience the platform or obtain the free stock.
Looking for an all-in-one platform to park your money in investments? Moomoo might just be perfect for you. From low fees to access to many markets, moomoo caters to many investors and traders.
Why choose moomoo over other brokerages?
The excellent customer service and low fees entice people to choose moomoo over other online brokerages.
Now is the best time to create a moomoo account if you're interested. Receive attractive welcome gifts by signing up here.
Happy investing!
We'd LOVE to Feature You!
Your experiences are highly valued by others.
You Deserve to Make Better Decisions.
Receive summaries of experiences & guides, from those who've been there, done that.
If you like our content, we'd appreciate it if you could follow us on our social platforms!
It'll bring us one step closer to equipping everyone with knowledge to make better decisions.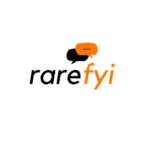 Rarefyi is a place where everyone can share their experiences, life stories, tips, mistakes, and advice. Share your story and get featured!