A new shopping mall is coming to Punggol! Since Waterway Point's official launch in 2016, it has gained popularity among many Singaporeans.
Now, Northshore Plaza I will be launching on 29 October 2021 and Plaza II will open early 2022. Singaporeans living in the North-East area will definitely be happy with the addition of a new mall.
Northshore Plaza will be the first sea-front neighbourhood centre to be built in an HDB estate, offering residents a unique waterfront shopping experience.

Quote by

Housing & Development Board (HDB)
Apparently, the new Northshore Plaza will be like no other – boasting a great sea view.
Is it time to visit the new mall with your friends and family?
You may also want to find out about the new One Punggol launch.
Northshore Plaza I & II Directory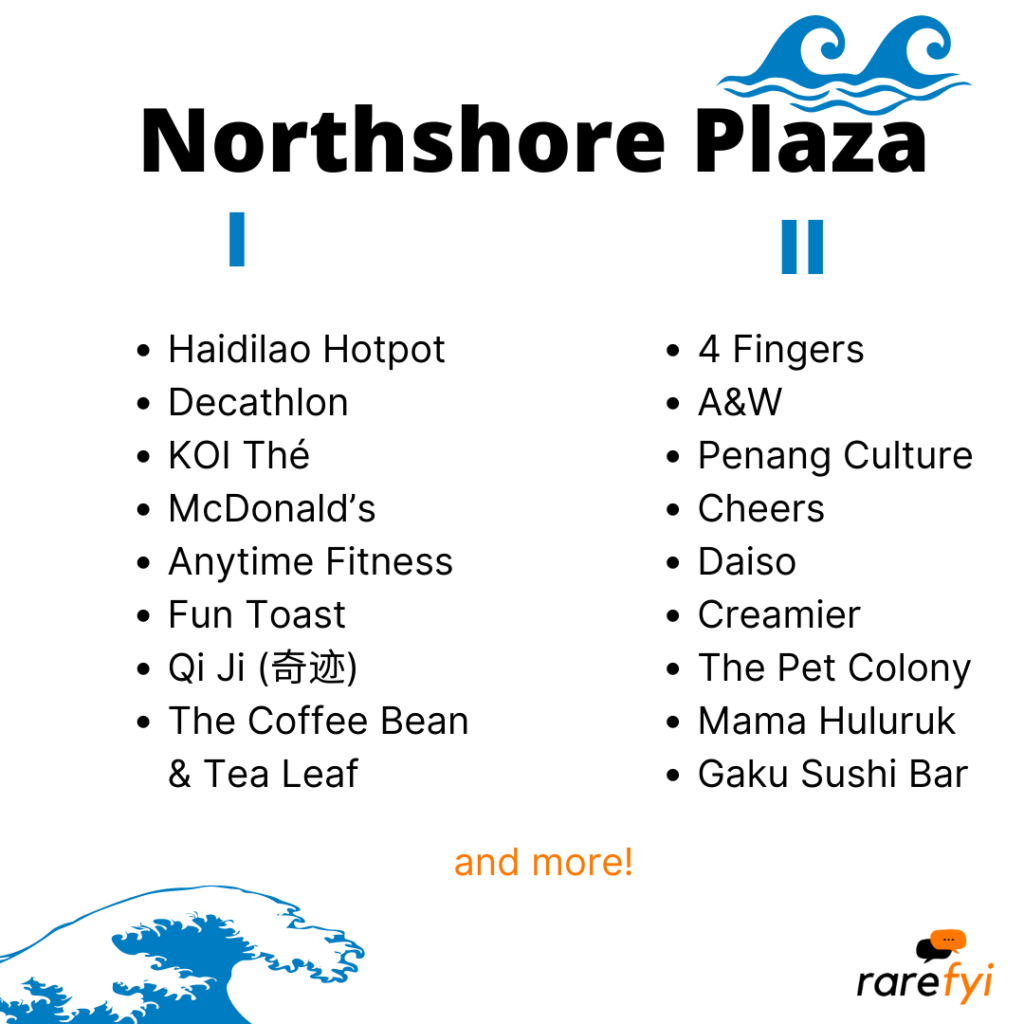 List of Known Shops in Northshore Plaza 1 and 2
These are the known shops so far from successful tenders, and reference from Northshore Plaza Facebook Page and Punggol Northshore District Facebook Page. The mall will include Supermarkets, Food courts, Restaurants, Food & Beverage Shops, Enrichment & childcare centres, and more.
Plaza 1
Food & Beverage
Belly Yummy
Blackball
Daily Staples
Downstairs (楼下 )
Fun Toast
Grove
HaiDiLao Hotpot
Hockhua Tonic
KOI Thé
Koufu
Little Caesars Pizza
McDonald's
Nom Nom
Qi Ji (奇迹)
Sixth Floor Oyster Cake
Simply Wrapps
Staple
Swee Heng
The Coffee Bean & Tea Leaf
Super Wok
Song Fa Kway Chap
Learning & Enrichment
Distinct Creative Arts

Joy Waltz Academy
Kickmatics Taekwondo
Mindstretcher
Mulberry Learning
PlayFACTO School
Tree Art
Wang Learning Centre
Health & Wellness
Anytime Fitness
Advanced Dental
Celmonzé The Signature
Clippers Barber
Kerluxe Hair Studio
Masego – The Safari Spa
Pinnacle Family Clinic
Prohealth Medical Group
Others
Decathlon
Giant
Minutiae Interior
Nippon Home
Redman By Phoon Huat
The Source Bulk Foods
Plaza 2
Food & Beverage
4 Fingers
A&W
Ananda Bhavan
Cantine
Creamier
Dancing Crab
Gaku Sushi Bar
Mama Huluruk
Nomstar
Penang Culture
Slappy Cakes
VS Café
Others
Cheers
Daiso
Guardian
The Pet Colony
Directions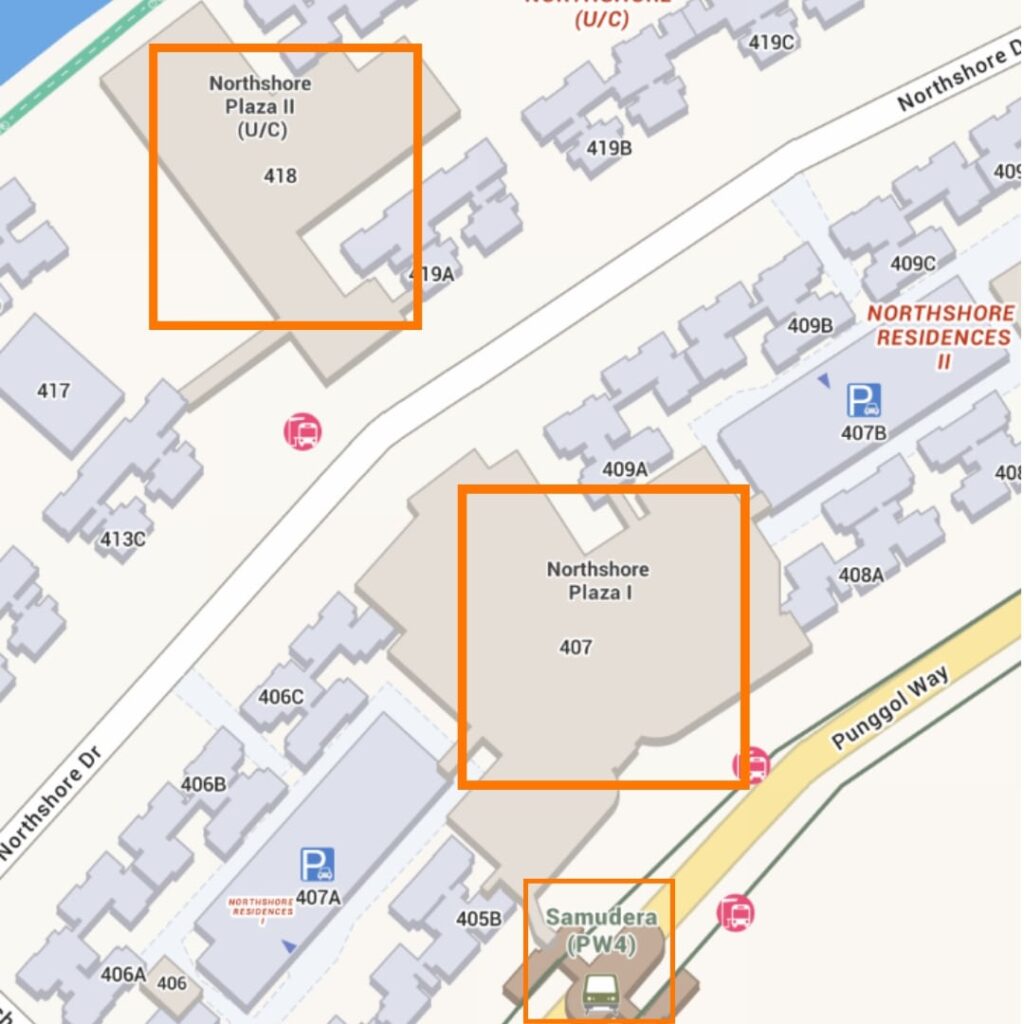 Image: OneMap
Address:
Northshore Plaza I
407 Northshore Drive Singapore 820407
Northshore Plaza II
418 Northshore Drive Northshore Plaza Ii Singapore 820418
The nearest LRT station is Samudera (PW4).
Northshore Plaza Events and Promotions
Currently, there is no upcoming events and promotions by the mall and management.
Once exciting events come out, we'll be sure to update you on our website and social media channels (@rarefyi)!
Conclusion – Should you go to Northshore Plaza?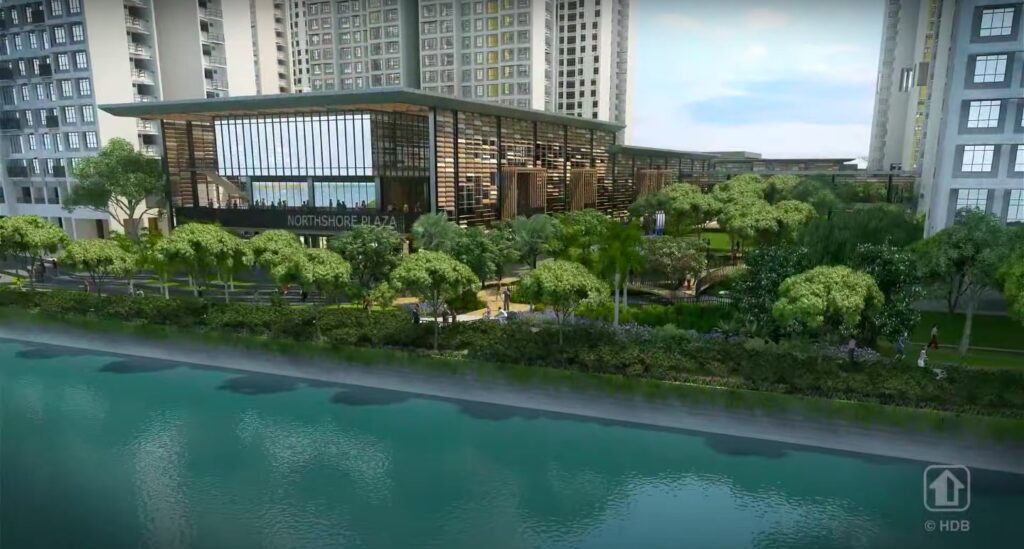 The novelty of the new Punggol Mall and the seafront view might be worth taking a look at.
A resident of 422B Northshore Drive mentioned that he was excited about the mall opening. However, he complained about the lack of amenities and shops around the area since the HDB flat was recently built.
Currently, a new "One Punggol" is under construction. Read about it here!
We'll update you when more information and exciting events come out so be sure to follow us!
One thing we know for sure – It'll surely be packed when the mall launches. With social distancing measures in place, the number of people in the mall at one time might be limited.
Will you visit the new Northshore Plaza I & II?
We'd LOVE to Feature You!
Your experiences are highly valued by others.
You Deserve to Make Better Decisions.
Receive summaries of experiences & guides, from those who've been there, done that.
If you like our content, we'd appreciate it if you could follow us on our social platforms!
It'll bring us one step closer to equipping everyone with knowledge to make better decisions.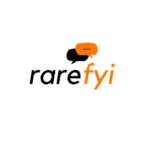 Rarefyi is a place where everyone can share their experiences, life stories, tips, mistakes, and advice. Share your story and get featured!